THE BOUGEBOUGE ADVENTURES
Every year, Participaction releases its Physical Activity Report. Last year, it showed that only 4.8% of children aged 5-11 and 0.8% of youth aged 12-17 met the national 24-hour exercise guidelines, compared to 15% before. Also, 62% of children and youth are less active outdoors and 79% of children and youth spend more free time in front of screens.
It is partly due to these statistics and discussions with our allies in the education world that we decided to launch the 1st BougeBouge Adventure: Canada, from Coast to Coast. In total, more than 60 schools and 18,000 young students took action during the month of April last year in the midst of the pandemic. A truly provincial movement was created, with schools from Eastern Quebec, the Laurentides, Lac St-Louis, the Great Montreal Area, Outaouais, Eastern Townships, Montreal, Quebec City, Laval, Mont-Laurier, and more.
A BougeBouge Adventure is a project for groups, such as schools, that takes participants on a virtual road trip around Quebec, Canada or elsewhere in the world. The participants are physically active and accumulate kilometers together to advance their group along the route. As the adventure progresses, milestones are reached and video-educational content becomes available.
Adventures are programs that generally take place over a period of one month and combine a field of interest and/or learning related to physical activity. The BougeBouge Adventures are mainly aimed at teenagers and young adults. The adventures allow you to travel through a territory and discover art, history, heritage and/or cultures.  Using mobile technology and fun education principles, participants engage in a digital journey that, linked to their actual physical activity (e.g., the accumulation of miles traveled), allows them to unlock stimulating educational content. The perfect marriage between pedagogy and physical activity to create stimulating classroom activities, valuable learning and healthy lifestyle habits.
PDF BougeBouge Adventure
SEVERAL ADVENTURES TO CHOOSE FROM!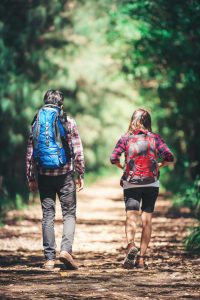 ADVENTURE COURSE CANADA: FROM COAST TO COAST.
As a team, discover the country of Canada! Move, accumulate kilometers, and cross Canada, from one ocean to the other!
ADVENTURE JOURNEY QUEBEC: MEET THE NATIVE PEOPLE.
In team, move, accumulate kilometers, and cross Quebec to meet the natives!
COSTA RICA ADVENTURE 
Les groupes font de l'activité physique et accumulent, ensemble, des kilomètres qui font avancer leur groupe sur le parcours qui traverse le Costa Rica.
EUROPE ADVENTURE 
Europe Adventure is offered to groups, such as schools, and takes participants on a virtual road trip through Europe.
BENEFITS TO PARTICIPANTS
Encourages teamwork and leadership
Develops critical thinking and civic engagement of youth to foster egalitarian relationships as well as intergenerational and intercultural dialogue
Learn more about the reality, history, geography and culture of the places visited
Increases school perseverance and arouses curiosity through different themes.
Promotes physical activity to foster positive mental health and an active lifestyle
PDF Adventure Quebec: Meeting the Indigenous Peoples.