Aylmer s'anime cet été: Toile collective BougeBouge 3
As part of the Aylmer Active this summer, in collaboration with APICA, BougeBouge and its team, we are creating a series of seven (7) collective paintings, three (3) of which were created by artist Maryse Bélisle and four (4) by artist Étienne Gélinas.
The profits raised will go to the Kathy Tremblay Foundation in order to help schools in areas that are more at risk for physical activity. A charitable receipt can be given to you!
Exposé: À déterminé (Secteur Aylmer)
Etienne Gelinas & All
BougeBouge 3
24"x 24" / 60cm x 60cm
Techniques mixtes sur toile
2020
Mise de départ 840.00$+tx
In stock
---
---
Description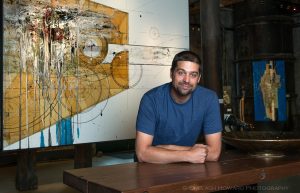 Born in Maniwaki (Québec), Etienne Gélinas pursued college education in "visual and media arts" at the Collège de l'Outaouais in Gatineau, followed by a Bachelor's degree in art and design from the UQO (BA) in 2006, and later graduated with a master's degree in project management (MPM) from the UQO in 2012, and also a Master in visual art (MA) at the UQO in 2015. He has staged numerous solo exhibitions, including at AxeNeo7, at the Art-Image and Espace Odysée galleries of the Maison de la Culture de Gatineau, at the D'Avignon Gallery in Montréal, at the St-Laurent+Hill Gallery in Ottawa, at the Galerie Montcalm of the Maison du Citoyen de Gatineau, at the Thompson Landry Gallery in Toronto, at the Lanlande & Doyle Gallery of the Shenkman Arts Centre in Ottawa, at The CACPC of Chelsea as well at the Centre d'exposition de Val-d'Or.