Kathy Tremblay: BougeBouge Ambasador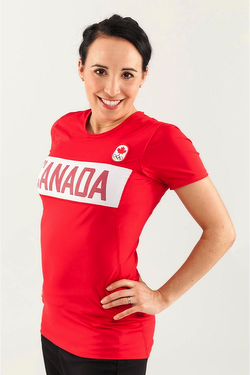 Double Olympian in triathlon (swim/bike/run), Kathy Tremblay has persevered and excelled in her field for seventeen years. An entrepreneur at heart, she has always surrounded herself with a high-performance team while searching for financial partners to reach the highest heights of her sport. With the experience she acquired with these partners, including Cascades, Saputo and Oakley, Kathy has broadened her knowledge of the world of work and the close link between elite sports and corporate performance.
With a Bachelor of Arts degree from the Université de Montréal, Kathy Tremblay has earned three certificates, two at the Université de Montréal in Public Relations and Industrial Relations and another at HEC Montréal in Business Creation. 
As early as 2006, Kathy planned to go into business and create a health and wellness program in the workplace, thereby leaving the values of health and balance to people in the workplace and to the next generation with the goal of optimizing human performance. However, it wasn't until after her participation in two Olympic Games (Beijing, 2008 and London, 2012) that she officially decided to retire from amateur sport to go into business. Today, it is the passion to pursue this other dream just as ambitious as the Olympic Games that absorbs her.
---
Elite Sport
2 x Olympian – Olympic Games Beijing, 2008 and London, 2012
17 years of career in Triathlon
Gold Medal Ishigaki World Cup – JAPAN 2012
Article from leSoleil July 19, 2020 by Jean-François Tardif: Kathy Tremblay: a sport made for her personality
---
Trainings
Dale Carnegie – Strategic Presentation (HIP) 2013
B.A – HEC Montréal – Business Creation, Public Relations, Industrial Relations
Nutritious lifestyle – Kiné-Concept
Entrepreneurial Awards
Kathy Tremblay, one of the eight must-have entrepreneurs of 2013, according to Premières en affaires: l'actualité des affaires au féminin.
Winner of the second prize in the 2013 Quebec Entrepreneurship Contest in the "Business Services" category Kathy Tremblay, founder and president of Team Altius.
Passion: Health & Communication
I have always wanted to demonstrate that it is possible to perform while maintaining a balance between our personal life and professional field. Even though at several points in my athletic career I have suffered numerous physical injuries and burnout, I have always found ways to get back on my feet and regain the balance that is crucial to reaching peak performance. Considering that I have had a brilliant sports career with ups and downs, I would not change anything in my career if I had to start all over again. I have learned from my mistakes and progressed with my achievements.
My motto:
"You can't buy success. You can neither steal it nor inherit it. You can only get it if you believe in it, work hard, take risks, and, ultimately, persevere. »
My experiences:
Speaker
Spokesperson for the Marché de solidarité régional de l'Outaouais
Presto Lunch Spokesperson
Ambassador Cascades, Saputo, Oakley, Asics
Kick-off of the Relay for Life in Gatineau